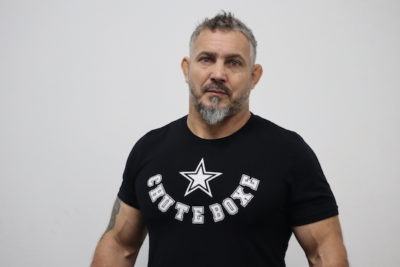 Professor Claudio
Claudio "Popeye" Mattos is a 3rd-degree black belt in Brazilian Jiu Jitsu and Muay Thai Grand Master under the Chute Boxe organization. Professor Mattos, or just "Professor" as he is known in the gym, began his martial arts journey at the age of 11 training in Capoeira and Boxing. Originally from Porto Alegre Rio Grande do Sul, Brazil, Professor moved with his family to Curitiba, Brazil at the age of 3 and lived there until coming to the United State in 2015.
Professor began his competitive fight career in 1987 at the age of 19 as a member of the first-ever Chute Boxe Fight Team under Grand Master and Chute Boxe founder, Rudamir Fedrigo. That first fight Chute Boxe fight team dominated the Muay Thai fight scene and paved the way for some of the greatest fighters in the history of Pride and the UFC. Out of that original fight team, Professor was known as the knockout artist due to his tremendous punching power and speed. As a result of his success, Brazilian newspapers have since often referred to Professor as the "Wanderlei Silva of the 1980s".

When the Chute Boxe organization moved into Vale Tudo (Portuguese for "anything goes") fighting, Professor began training heavily in Brazilian Jiu-Jitsu. During his BJJ training, Professor studied under the legendary Rafael Cordero, as well as Cristiano Marcelo, George Patino "Macaco", Nino Schembri, and many more. The influence of these legendary coaches can be seen in the highly technical and explosive nature of Professor's BJJ style.

During his professional fighting and coaching career Professor has trained with the "Who's Who" of the Vale Tudo and mixed martial arts world including Wanderlei Silva, Anderson Silva, Shogun Rua, Ninja Rua, Cyborg, and Cris Cyborg, Sakuraba, and many more.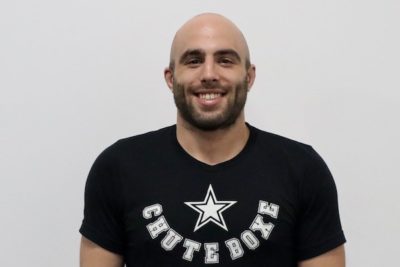 Calen Born

Calen Born started wrestling in 2003 and competed on a national level in Freestyle, Greco-Roman, and Folkstyle wrestling. He first began training in Judo and Jiu-Jitsu in 2007. In 2008 he began studying Shaolin Gong Fu and kickboxing under Master Dwane Lewis. Calen took his first Mixed martial arts fight in 2012. After competing on a national level in Judo, he was promoted to Black Belt in 2013. In the same year, he also earned his Black Belt in Shaolin Gong Fu.

Currently, he is finishing up the journey to becoming a Chute Boxe Brazilian Jiu-Jitsu Black Belt under Grand Master Claudio Mattos and should be able to prove himself by the end of 2018. In the past year, he has had 5 Professional MMA fights with five first-round finishes, 3 submission, and 2 TKOs. Chute Boxe KC is now formulating a plan to have him signed to the UFC within a year. Calen believes that martial arts is a vessel you can use to enhance and change the entire course of your life. He is living proof.